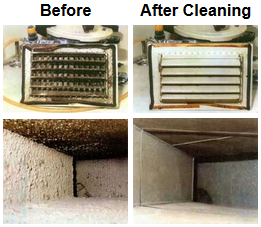 B&F Power Vac is the industry leader with over 40 years in business, serving the Residential needs of our local community.   We have completed countless successful HVAC equipment cleaning projects in Idaho and Washington. B&F Power Vac is also a long standing member of the Better Business Bureau with an A+ rating.  Our Dun & Bradstreet rating is 1R2.
Cleaning services B&F provides:
Furnace & Air Duct Systems – Click here for answers to frequently asked questions.
Chimney Sweep – An annual inspection and cleaning (if necessary) is suggested. While fire prevention is a major concern, unseen blockage can also prevent proper draft ventilation. B&F will clean your chimney and fireplace quickly and safely, with no soot entering your home.
Fireplaces, Wood & Oil Stoves
Dryer Vents – Most dryer damage and fires can be prevented with proper vent maintenance. When a dryer vent becomes clogged with lint, it is inefficient, resulting in longer drying times. Besides clogging the vent, lint is also combustible. According to the U.S. Consumer Products Safety Commission there were an estimated 15,500 dryer fires in 1996 resulting in 20 deaths, 320 injuries, and about $84.4 million in property damage.
Gas Water Heaters
Insulation Removal
New Construction Clean-up
Visual Viewing with B&F's MicroInspector, the industry latest technology tool.