NADCA CERTIFIED: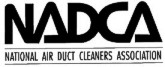 B&F Power Vac, a member of the National Air Duct Cleaners Association (NADCA) subscribes to the highest standards of performance and ethics. NADCA is a Washington D.C. based non-profit organization dedicated to educating consumers about the need for unpolluted indoor environments. To become a NADCA member a company must meet the NADCA Standards and comply with the NADCA Code of Ethics. We are proud to be a company that cares enough to take part in the continuing education that is required in order to better serve our customers.
B&F Power Vac is also proud to say that we have the most NADCA Air Systems Cleaning Specialists (ASCS) in the area.
Please feel free to check out the NADCA website. There you will find useful consumer information.
Additional Certifications Inclue:
ASCS (Air Systems Cleaning Specialists)
CVI (Certified Ventilation System Inspector)
VSMR (Ventilation System Mold Remediator)
B&F Power Vac is proud to be a member of the Better Business Bureau.